Ischia Thermal Parks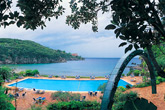 Thermal Parks: thanks to its volcanic origin the island offers some 67 hydrothermal fumaroli, 29 river basins and 13 sources. Our guests benefit of a discount entrance fee:
Negombo (Lacco Ameno), combines the extraordinary properties of the thermal waters with a pleasant and amusing day. Thermal jets, sun therapy, massage, aerosol, inhalation, 12 pools with underwater massage, for your well being.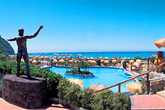 Poseidon Gardens (Forio), 60.000sqm guarantee an atmospere of peace and relaxation. Located in the Citara bay they offer 22 thermal pools (20c - 40c), huge prive beach with deck chairs and umbrellas, saunas, massage, Japanese circulation path.
Aphrodite-Apollon Gardens in Sant'Angelo (Sant'Angelo d'Ischia )salus per aquam said the Romans. 12 pools of various sizes and temperatures (20 - 40c).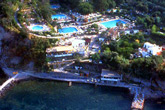 Tropical Park in Sant'Angelo (Sant'Angelo d'Ischia): in a splendid position in the S.Angelo bay, near the lovely beach of Cava Grado. Here you can choose between 9 pools with temperatures from 26c to 40c.
Castiglione Park Ischia-Casamicciola, offers 10 thermal pools, Kneipp pool, rock sauna, hydromassage, various thermal therapies. It is located in a splendid position, on the mountain slope, with lush green terraces and goes right down to the sea with its own little private beach.
---
---
Latest offer
Discover promotions